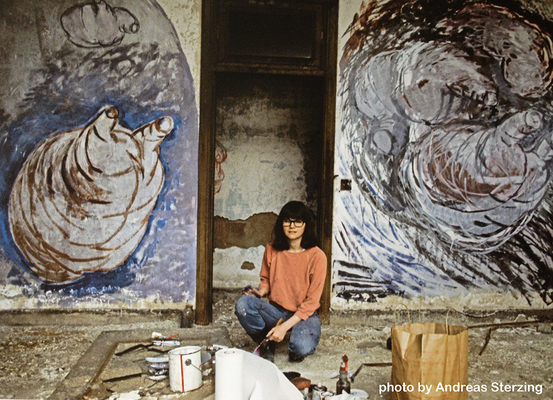 Jean Foos is a visual artist whose practice centers on richly painted and patterned surfaces. She
gives new life to objects made from discarded packing materials and ceramics. For her installations she favors ad hoc urban settings, such as long-abandoned industrial buildings, military housing, and community gardens.
Jean Foos's singular painting style is colorful, layered, exuberant. She began painting as a Cooper Union student in the 1970s. She was first inspired by the freedom of abstract expressionist painters and listened to their stories as told by Doré Ashton and Jack Whitten.
Her appetite for painting has driven her to pursue continual studies, fellowships and residencies from New York to Rome. Her MFA show in Rome (1978) was reviewed by Edith Schloss in the International Herald Tribune.
Born in Rochester, New York, in 1953, Foos moved to NYC to attend Cooper Union and lived in the East Village for over 20 years. She first had a studio at 32 Union Square East, and later moved many times to work in Soho, the Bronx and the garment district. At each of her locations she was active in the community of artists and held open studios and exhibitions. Because her studio is currently located at an arts center (Culture Lab LIC) she has become more engaged than ever with the local populace.
Two shows curated by the Yale art historian, Jonathan Weinberg, highlighted her paintings and early involvement with the downtown community of artists of the 80s and 90s. These were: "Something Possible Everywhere: Pier 34, NYC 1983" and "Painting to Survive: 1985–1995." These were reviewed widely and images of her work were shown in the Village Voice and Hyperallergic articles.
In early 2020, before things closed down due to the Covid pandemic, Jean was proud to have her painted sculptures shown in 3 different cities: Harrisburg, Princeton, and Washington DC. She travelled to their openings and met with the curators. In 2019 she built variations of a sculptural tower that were displayed in several locations on the Lower East Side of NYC—powerful totems that stood floor-to-ceiling in Empirical Nonsense Gallery (10.5 ft) and La Mama Galleria (12 ft.). Currently, an updated version of the tower (9.5 ft) is is installed in York College Gallery (CUNY) as part of FORMATIONS: Southeast Queens Biennial.
Her 2020 residency on Governors Island has been featured on two online platforms: Empirical Nonsense's END and Hyperallergic's A View From the Easel.
--------
Above photo copyright Andreas Sterzing. Painting a room at the abandoned Pier 34 (at Canal and Spring Streets), in a show loosely organized by David Wojnarowicz and Mike Bidlo. 1982